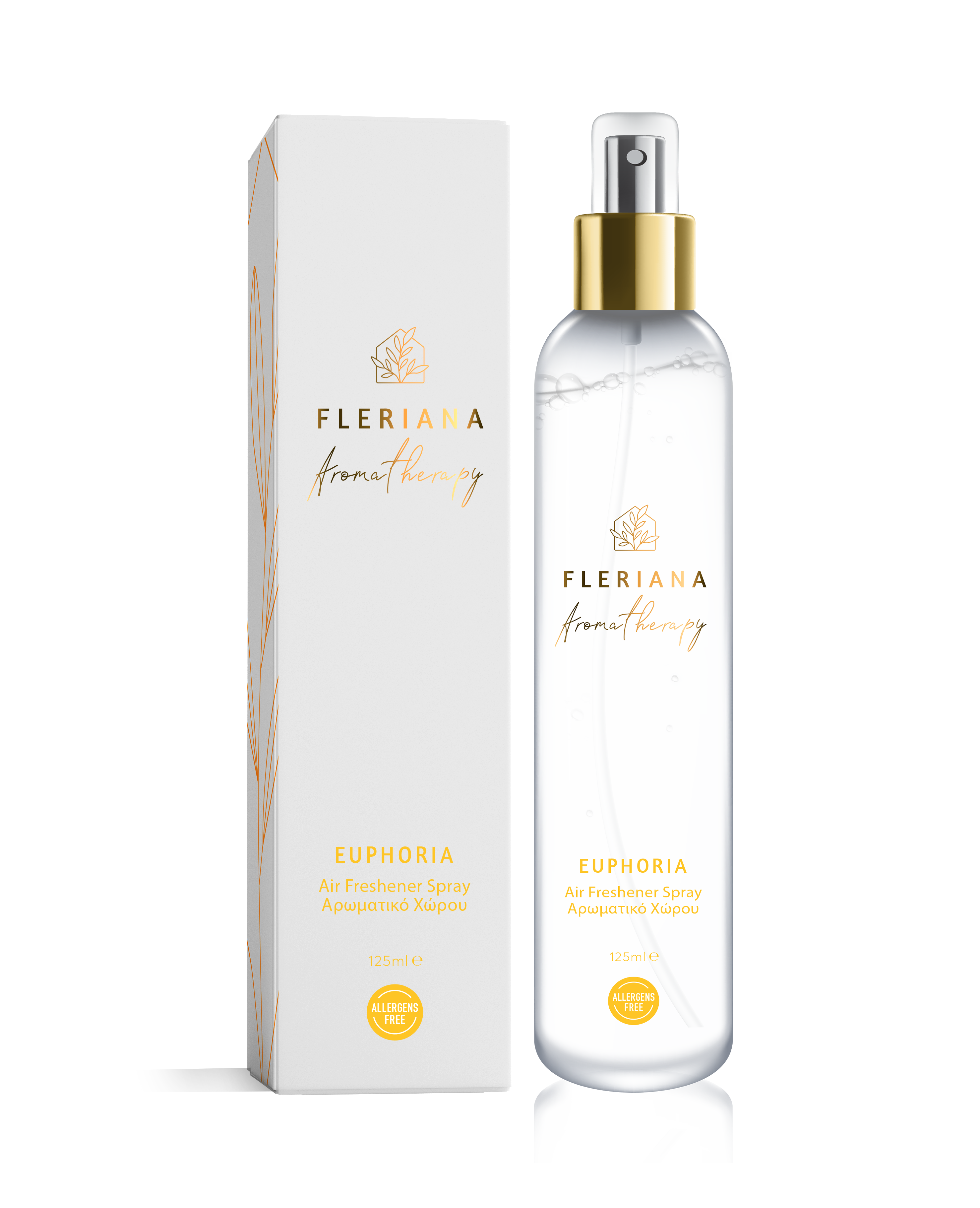 FLERIANA AROMATHERAPY - EUPHORIA AIR FRESHENER SPRAY
Liquid air freshener with a long lasting fragrance!
Liquid air freshener with a long lasting fragrance!
For many years aromatherapy uses natural, aromatic essential oils that enhance both physical and mental health. This kind of therapy helps to reduce stress, improves the mood and increases energy levels.
EUPHORIA AIR FRESHENER SPRAY by FLERIANA AROMATHERAPY range combines specially selected scents without allergens, with perfume notes that offer wellness and relaxation, in order to create a pleasant atmosphere in your indoor space.
TOP: Ocean Breeze, Ylang-Ylang
MIDDLE: Rose Petals, Caramel
BACK: Pure Musk, White woods
Thanks to its double action, it eliminates unpleasant odors and leaves a pleasant scent of freshness. Does not stain the fabrics. Ideal for hotels, restaurants, public use areas, elevators, hospitals, schools, airports, boats, laundry, etc.
Discover all products of the FLERIANA AROMATHERAPY range and dive into a transcendent experience of euphoria, full of unique fragrances that emit a sensation of freshness and cleanliness!
The range consists of products that encapsulate a valuable blend of specially selected fragrances without allergens that offer wellness and relaxation from stress.
Enjoy a unique aromatic experience that leads your senses to a wonderful journey of relaxation and rejuvenation…
Ingredient Information
Ingredients: Aqua, Alcohol Denat., Propylene Glycol, Parfum (Fragrance).
125ml ℮
Free of: Propellants, Allergens, Preservatives, Irritants, Animal testing, Gluten
Directions of Use
Shake gently before use
PRECAUTIONS: Warning. Flammable liquid and vapour. Keep out of reach of children. Keep away from heat, hot surfaces, sparks, open flames and other ignition sources. No smoking. If medical advice is needed, have product container or label at hand. Dispose of content/container in accordance with local/national/international regulations.
Tel. Poisoning Centre: +30 210 7793777